The 3rd International Congress on Natural Sciences with Sisterhood Universities (ICNS2013) held at Niigata University, Oct.12-14, 2013.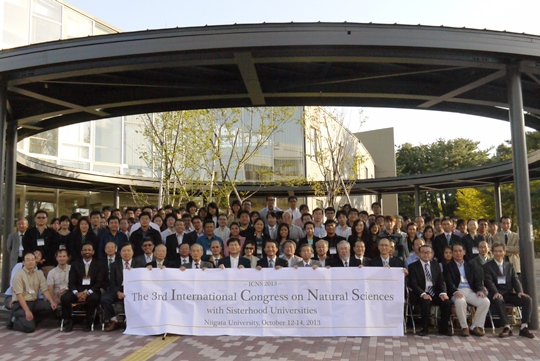 < Group photo 01 > < Group photo 02 > < Group photo 03 >
News and Information
2013-09-30

Instructions to presenters

Oral presentations

Detailed presentation schedule is given

Program Schedule page

of this web site. Note that the duration of each talk differs depending on sessions. Plenary lecture will be of 30 minutes duration, with additional 5 minutes discussion time. In general, each oral presentation in the parallel sessions will be of 20 minutes duration including discussion, although it may vary in different subjects. A PC projector and laser pointer will be available in each room. Speakers should use their own computer for presentation.

Poster presentations
Posters should be displayed in panels arranged in the library lounge. Maximum size of the poster is
Width: 120 cm
Height: 180 cm

2013-09-02

IMPORTANT:
PLEASE SUBMIT YOUR ABSTRACTS ON TIME

ICNS 2013 local organizing committe thanks all of you for registering to the congress. We will be keeping the registrations page online until the abstract submission is completed. However, late registrations may not be able to find a place in the excursions and hotel accommodation, as we are nearly filling the capacity.

2013-08-16

Thank you very much for registering to ICNS 2013. We have extended the deadline till the end of this month.
New deadline for Registration is August 31, 2013.

2013-07-23

2013-06-07

This website is opened.